This morning we continued our attempts to get up early (well we consider 6 am early) to have a less stressful morning with time to relax before the rest of the world begins it's daily cycle. We decided last night that we would go back to the strand to walk comrade Karl and do a quick beach clean. Storm Francis was still blowing past us when we made the decision, so we did not expect much for the weather.
As the alarm went off we I had the same conversation with myself that I often have at this time of the day: "Just another half an hour, we'll still have time to do what we planned". However, like most mornings ( though, not all as I'm only human and barely that sometimes) I decided to deny myself sleep and try to stick to the plan made for the morning. I glanced out the window and saw the potential of a clear sky. It was just a small amount, but enough to assure me I made the right decision.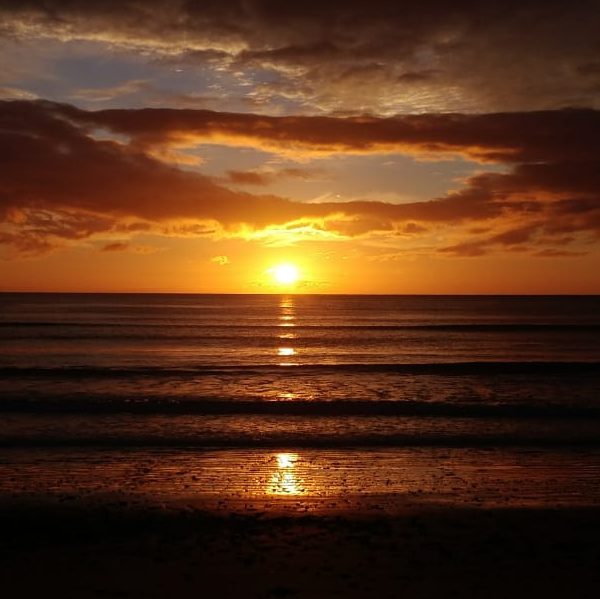 Our arrival at the beach was greeted by the ignition of our cosmic lighthouse. The sun in all it's glory had blessed us with its presence. Shifting the navy sky to azure with its bountiful flame. We had made the right decision. As it burned away the remnants of night we begun our meager attempt to pay our entrance fee to this wondrous event. We cleaned what we could and as daily life came calling we returned to base for our morning coffee. Readied for the day by the dawn light now coursing through our veins.
As the day continued I found myself tired. However, the visual memory of the; oranges, blues, and yellows of the morning's living masterpiece ensured that my tiredness was not a cause for complaint but for satisfaction. It was evidence that my morning was not wasted but vastly improved by taking the decision to skip out on sleep for that early morning beach clean.
Getting out there even just to do a little bit can be rewarded with the most beautiful sights. Maybe not every time, but even if it's just once in every thousand times it is completely worth it. Sometimes you will be tired of doing what you can, but it is still worth it. -M